A retrospective by medics from the British army stationed in Afghanistan, self-organization following the Big Bang transformation of an automotive firm in Germany, tackling water problems with agile practices proposed straight from the office of the president, … these and other incredible stories resonated among attendees at the Business Agility Conference in New York at the end of March 2022.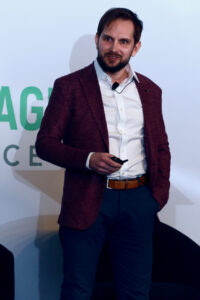 AgiLawyer is greatly honored that its co-founder Ondrej Dvorak was invited to follow these powerful presentations by delivering the closing address at the conference with his personal story of how he overcame barriers to bring agility to lawyers.
Not only did Ondrej explain pains experienced by lawyers, such as poor communication, and suboptimal structure of legal cases, but he also touched upon an agile clearing house called UA.SUPPORT, a project where volunteer lawyers from multiple countries are collaborating to provide legal assistance to those escaping the war in Ukraine.
If you want to watch Ondrej's speech or any of the other incredible talks from the New York conference, you can find them here.