In September, Ondřej Dvořák, a co-founder of AgiLawyer, delivered a keynote address at the AgileDC conference in Washington DC, a prestigious gathering of agilists from major American forms. The focus of his speech was to illustrate the true power of agility and collaboration in situations, such as the massive wave of migration that has resulted from the unprecedented Russian aggression in Ukraine.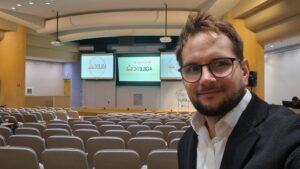 Ondřej shared the story of UA.SUPPORT-Linking Help, a non-profit platform initiated by AgiLawyer, along with several other patrons-firms, to facilitate pro bono legal aid to people in need-namely Ukrainians. He explained how the platform works and what challenges he faced, and overcame, as the platform was being developed. UA.SUPPORT is composed of a clearing house – it looks like a simple website, but is actually a smart system that triages requests for help – and a help desk, as well as complex analytical tools to rapidly deliver legal assistance to those in need.
So how does the platform work? A person in need of legal help visits the website, where he or she enters their request on an online form. If necessary, a Ukrainian-speaking lawyer will contact them and gather additional details. Then, the request is categorized according to the appropriate country and field of law. Volunteer lawyers with the expertise being sought, and in the selected country, will be notified that a new request has been created. The lawyer who selects the task will contact the requester directly and start dealing with the case. Once the request is resolved, it is forwarded to the platform's proprietary AI tool for processing and is evaluated on an anonymized basis.
A huge thank-you to all the participants at the AgileDC conference!